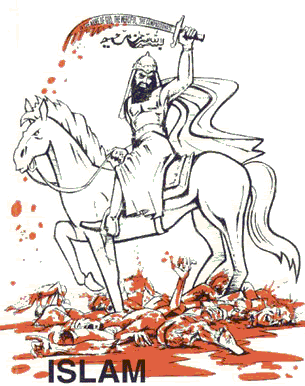 Dharmaveer, a software engineer in Bangalore, India has been studying Islam for the past 8 years, and has thoroughly read the Koran, five of the canonical Hadiths, the Biography of Mohamed, and various other books of Islamic jurisprudence. Currently he maintains a very informative blog dharmaveer.blogspot.com
The following is his appeal to ALL Muslims in his
latest blog entry
:
"I wish to end by appealing to Muslim readers - please read all the accounts of Muhammad's life for yourself. Don't believe me. Read and judge for yourself. Your own humanity will tell you that this man was a cruel, manipulative charlatan. Most Muslims have been forced into Islam at some point in their family history. Please reject this religion that has been forced upon you. In Kashmir - the Hindus were forced into Islam by the cruel despot Sikandar Butshikan. If you read of how he imposed Islam by the sword, it will make your humanity cry. If you are Kashmiri, how can you stay in that religion that was forced upon your ancestors. If you are a muslim in Sindh, maybe one of the men murdered by Mohammad Bin Qasim was your forefather. If you are an Arab muslim, maybe the men murdered by Muhammad were your direct ancestors. Please leave this religion that has spread through violence, lies, and hatred. This is a sincere appeal to all Muslim readers."
Dharmaveer has such a beautiful Dhivehi name, he might as well be an honorary Maldivian patriot. I am echoing Dharmaveer's plea. Islam was spread in Maldives by force, just as it was spread elsewhere. In islands such as Dhambidhoo where Dhivehi resistance was deep-rooted our patriotic Buddhist monks and laity were slaughtered as late as a hundred years after the rest of our country was forcibly converted. Our Loamaafaanu documents and buried Buddhist ruins testify to this.
My appeal to my fellow Maldivians is the same as Dharmaveer's. Leave Islam and wipe out that ideology of hate completely from our peaceful shores.
(
image courtesy of Aryamehr
)